Welcome To Women's Self Defense Boston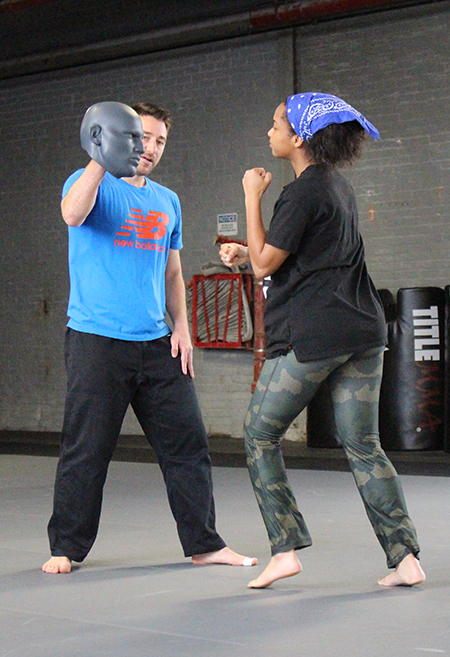 Welcome to Women's Self Defense Boston, offering the SEPS (Situation Effective Protection System), women's self-defense program. This is a free course (there are no charges or costs to attend any of the classes) that runs on Saturday mornings at 10 AM in Charlestown. The program is comprehensive, in that it teaches physical solutions to dealing with violence (against armed and unarmed assaults, whilst standing or on the ground etc), including the use of pepper spray - participants get the chance to train with inert units - along with ways to predict, prevent, identify and avoid violence. The program is supported by an online component, so that those who attend have a resource that they can use to review and refresh the material that they learn in class - to visit the SEPS Women's Self Defense Course, please click here. If you are at university/college or know of someone who is, you can visit our women's campus safety website by clicking here.
This course has been offered free in Boston since 2010, and has trained thousands of women in Massachusetts and the surrounding areas, to both avoid and deal with violent assaults. If you would like to book any of our free classes (the program is modular, and modules can be taken out of turn, or as stand-alone classes), please click here.
SEPS, standing for Situation Effective Protection System, is a framework and personal methodology that empowers individuals to understand and make dynamic risk assessments of the situations they find themselves in. The system stays away from giving "safety tips" and "rules" that women should follow to keep themselves safe, as we recognize that the very people we are trying to protect ourselves from, understand these rules and have subtle ways of getting us to break them. We all know that we shouldn't get into a stranger's car, or let a stranger into our home, however sexual predators etc have ways and means to stop us viewing them as strangers, and getting us to believe that our rules don't apply to the specific situation we find ourselves in. The SEPS system empowers individuals to identify, predict and avoid violence by educating them as to the methods that predatory individuals use to gain access to and disarm their targets/victims as to their real and harmful motivations. To book a free class please click here (we require everybody to book their first class, so that we can control the number of people training with us the first time).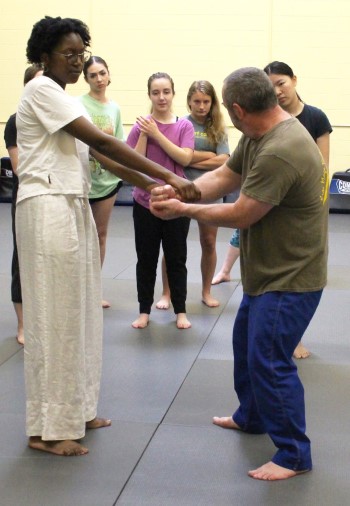 Neither do we simply give good advice, such as that we should be more aware of our surroundings, without telling our students what they are actually looking for e.g. what is actually suspicious and harmful and what can be ignored etc. Rather we teach people how to educate themselves so that they can identify the actions and behaviors of aggressive and violent individuals before they are able to reach/gain access to them. We teach both threat recognition as well as effective decision-making. To book a free class please
click here
.
The aim of the program is to inform and train as many women as possible as to the types of violence they are likely to face and how to predict, identify and avoid it before it happens - and if it does happen how to physically defend themselves, using basic simple techniques. The program is divided into 8 modules/classes, all of which are backed up with an online resource that provides the information taught in the classes as well as a wealth of background information that supports this. This online resource can be accessed by clicking here.
Our program is totally FREE and is open to women and teenage girls 18 and over. We do discuss topics and subjects of a sexual nature e.g. sexual assault and rape and are very direct in the way that we present this material. We also have a program that specifically addresses the self defense needs of young women aged 16-22 that we run as a series of seminars and courses throughout the year. To find out more please click here.There is also an online course for women at college or university that looks at safety on campus; this site can be accessed by clicking here.
We also run specific courses for young women living on University Campuses, and for colleges and universities, which want to provide their female students and residents with self-protection and self-defense training. If you are interested in learning more about Women's Self Defense & University & College Campuses, please click here.
we make use of Redman Scenrio Based Training suits, which are protective padded suits that both the instructors and students can wear in order to practice at real or near real force. All our instructor team are qualified and have received the appropriate training to use these suits. Head Instructor, Gershon Ben Keren was certified by "Red One" as a Redman Scenario Based Trainer.
Gershon Ben Keren's Google Talk
In February 2015, SEPS Co-creator, Gershon Ben Keren, was invited by Google to present on the subjects on personal safety, and self-defense, having just written a book on Krav Maga. Only professionals, who are recognized as experts in their field, are asked to present a "Google Talk".
In this 70 minute presentation, Gershon Ben Keren, describes many of the fundamental concepts and principles of the SEPS system.
Location
Krav Maga Yashir
3rd Floor (Charlestown Maritime Center)
200 Terminal Street
Charlestown
MA 02129

TEL: (339) 224-8005


View Larger Map
Newsletter
Keep up to date with new Krav Maga classes, Free Seminars & Special Offers etc.
Twitter