Campus Safety Training
Free Campus Safety Seminar
Saturday, July 29, 2017, 11:30am-1pm.
Before the end of Summer, SEPS Women's Self Defense Boston, will be conducting its free annual, "Back to College", self-defense and personal safety seminar. This seminar looks directly at campus safety and the types of threats and dangers that young women, attending college and university safe, whether it's from sexual predators (women in the US are more likely to be sexually assaulted or raped if they attend university than if they don't – a potentially high cost to pay for an education) operating in social settings, such as parties, study groups etc. or fellow students with a criminal bent, who won't think twice about stealing or burglarizing those around them.
This is not a seminar where attendees are taught a list of do's and don'ts or a set of rules, that criminals and predatory individuals know how to circumvent and use against us, but rather an education into the way that such individuals think and operate, and the methods that they use etc. Attendees, will learn how to predict, prevent and identify violent situations before they occur, and what to do when such situations are unavoidable. The physical component of the seminar, will teach simple, effective and proven techniques that will increase any person's survival chances.
The seminar is free and open to women aged 16 - 23 (if you are under 18, you will need to get a parent or guardian to sign the parental consent form), but we do require, that attendees pre-register. Please use the links below to register
If you are 18 or older, please click here to register
If you are under 18, please get a Parent/Guardian to register you, by clicking here
About Campus Safety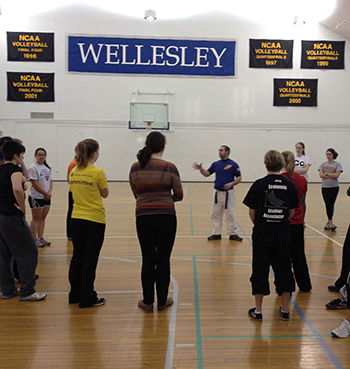 We have a free online course regarding female campus safety, which can be accessed by click here. For an overview of this course please click here.
One of the greatest defenses a woman can have against being sexually assaulted is age, as Anna C Salter, a profiler and predictor of sexual assaults says, "The statistics for rape tell a very odd story. Women are least safe at home and least safe with friends, acquaintances, and family...the best thing we can do to protect ourselves is grow older." Being the target of sexually aggressive behavior and Sexual assault is something women are most at risk of during their teenage years and those of their early 20's. In a study by Koss, Gidycz, and Wisniewki (1987), 54% of women reported having been the target of some form of sexual victimization, including sexual coercion as well as attempted and actual rape, since they were age 14. The study also backs up the opening statement about women being least safe with friends and acquanitances, as 54% of women who were raped were sexually assaulted whilst on a date and overall 84% knew their attackers.
University and Campus life can afford young people a rich opportunity to enjoy new freedoms and take responsibility for their own life without the presence of parents and other adults. Often young women are equipped with incorrect ideas and outdated knowledge about the ways in which sexual predators operate. They are told to avoid walking home late at night, to avoid talking to strangers etc and whilst this is all good advice is does little to protect them against the seemingly "nice friend" who has other plans for them beyond helping them with their studies or going out for a quiet drink with them - niceness is a learnt behavior it is not a character trait and this means that those who wish us harm can pretend and act otherwise.
Sexual Predator's live their lives on a 24 by 7 basis, looking for a way to gain access to their targets/victims and this is usually by stealth and guile rather than by outright force. On the contrary most young people spend little more than a few moments thinking about the possibility of being sexually assaulted and when they do so they concentrate on the assault itself and not on the ways they could have possibly prevent it, identify it and disengage from it. Whilst we teach physical solutions to sexual assault we also teach the preventative measures that allow a person to avoid becoming the target in the first place.
Our system doesn't simply prescribe a list of do's and don'ts (the people that you are trying to protect yourself from know this list too) but instead teach young women the skills they need to predict, prevent and identify violence before it occurs. This is the idea of self-protection.
We educate young women as to the methods that sexual predators use (including date/acquaintance rapists) and how to identify the steps that are taken in order for them to identify their victim and then put their potential target into such a disadvantageous situation that it is unlikely that they will even fight back - this is why simply teaching physical self-defense rarely works. We combine our physical self-defense training with the appropriate head knowledge and situational training that allows young women to make sense of what is happening from the first moment and gives them the time to disengage before the situation turns physical.
We don't just discuss the extreme cases of violence against women such as rape and sexual assault but look at partner abuse both verbal and physical and the different directions that these forms of aggression can take. We inform women how to spot the early warning signs as well as how to act in, and end an abusive relationship, without developing a stalker or future sexual assaulter.
We conduct all our training in a calm and reassuring manner. We talk openly and don't shy away from the hard subjects. We are not about inciting panic, paranoia or hysteria around young women's self-defense but about informing and educating young women concerning the dangers they may face and how to prevent and avoid them.
We Are Located In

Charlestown, MA
View Larger Map
Krav Maga Yashir Boston
Charlestown Maritime Ctr (3 FL)
Charlestown
MA 02129

Tel: (339) 224-8005


Sign Up For Our

Newsletter
For news of seminars, special events, book releases and more, sign up for our newsletter.