Corporate Training, Presentations, Seminars & Events
SEPS Women's Personal Safety & Self Defense Corporate Services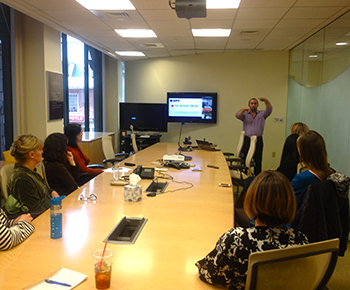 If you are looking to train your employees in how to deal with aggressive/violent behaviors either in a workplace or private setting (such as on the way to and from work, on public transport, in parking lots etc.) we can design and engineer a seminar, a presentation - on the right hand side-bar are two Google Talks, which will give you an idea as to the information we present - or a short course for you, that can include (or not include) physical self-defense - we have been providing these services for enterprises and organizations in Boston's financial, engineering, retail, healthcare and non-profit sectors for many years (we will be happy to provide a client list, and references should you require it)
Whether it be a standard self-defense and personal safety seminar or a more bespoke offering that you require we can easily tailor/make a course/training for you whether it involves specific training objectives (such as de-escalation over the phone, shop-front confrontational management etc) or more general personal safety awareness etc. Whatever your needs/goals we can put together a "package" which meets your needs. This can be done at our 16 000 sq ft matted studio or at your facility. It can be delivered as a hand-on workshop/training session or a lecture room style presentation (or a combination of both). We can also offer consultancy services looking at your current security processes and protocols, including your disciplinary and "hiring and firing" methods etc.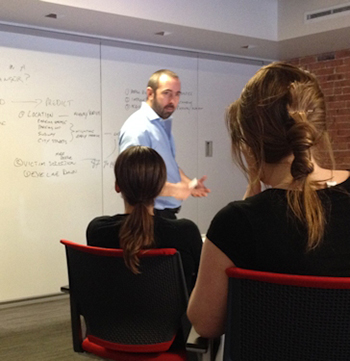 Our approach to personal safety and self-defense, is not to repeat the tired an obvious pieces of "good advice" such as "don't walk down dark alleys", "always keep your purse close to you" etc. that we all know - and yet rarely follow. Instead we teach a much more empowering and realistic approach to self-protection and personal safety, Which teaches and develops real life skills for avoiding and handling potentially violent situations. We teach the ability to determine risk, and make dynamic risk assessments of different situations, and present strategies and solutions for dealing with them. Our training is research based, and involves the same type of training that we deliver to security professionals.
If you are interested in learning more about the types of training and services we offer, whether it is a one-off seminar, consultancy or presentation, or a longer series of classes and events, please use the form below to contact us, and we will be happy to work with you, in defining and providing exactly what you need. You can use the form below or contact us at (339) 224-8005.
Self-Protection Google Talks
SEPS Head Instructor has presented two author talks at Google (one in 2015 and another in 2017). In these talks/presentation he goes through the different processes and methods that criminals and predators use to target and access their victims, and how to predict, prevent and identify them, along with ways to de-escalate aggresive individuals etc.
Gershon Ben Keren 2015 Google Talk
Gershon Ben Keren 2017 Google Talk
Anthony Brooks NPR Interview
In 2013, NPR/WBUR Journalist, Anthony Brooks, visited Krav Maga Yashir Boston, to talk to Head Instructor & SEPS Founder, Gershon Ben Keren, about violent situations where compliance may not be the best option - this was in response to the express kidnapping and murder of Amy Lord in South Boston. In this 15 minute interview, Gershon Ben Keren, talks about different types of violent crime and how to deal with them. To listen to the interview click here.
Keep Up To Date By Following Us On Facebook
Follow Gershon Ben Keren On Twitter
Tweets by @GershonBenKeren